Well with 21.1km to train for I have employed the services of a running coach. Byron is one of the trainers who works at my gym, he has numerous half marathons up his sleeve and a couple of full marathons and OMG he knows his stuff. I met with him on Tuesday where he put me through my paces, introduced me to plyometrics and watched me go through the exercises to assess which muscles were weaker than others and needed work. So with many box jumps, squats and lunges under my belt I left my session feeling truly excited about my upcoming training. I will be meeting Byron again next week and he will have a shiny new program ready for me mapping out what I will need to do every week between now and the big Half, in that training program he will also incorporate the other events I am signed up for in the lead up to the half and is going to have some nutritional advice for me too. He made me feel so at ease, I was worried that my lack of exercise over the xmas period and while I was sick last year had undone a lot of my previous work but Byron was happy with where my fitness was at and had no doubts that I would be ready in time to smash out the 21.1km, he is confident he will not only have me going further but he will also have me going faster by switching on muscles that are currently not being used.
My legs were feeling great yesterday morning, I was expecting to hobble out of bed like a grandma but I felt great, however as the day wore on I got stiffer and stiffer. I went out for my prescribed run yesterday afternoon after work and what was supposed to be a nice long slow run turned into me having trouble slowing to my usual pace, I was already running quicker than I normally would, however at the 2km mark my stiff legs just didn't want to cooperate so I stopped for a stretch and headed back the way I came. I got no relief though so another 0.5km down the track I slowed to a walk and ended up walking the 1.5km back to my car, I did go at quite a swift pace and then had another good stretch when I got back to the car. I guess these new muscles of mine are going to take a few weeks to get used to working but I am sure I'll be back to 10km in no time, I am still sore today but my instructions for today are to just go out for a walk, I am sure that I can manage that and it will help loosen me up a little
What else have I discovered this week? I need to suck it up and go and buy some shorts, running in leggings with the sun shining is just not nice, I am getting so hot and bothered and very uncomfortable, I am going to have to put my wobbly leg issues aside and go and get me into some running short to make things a bit more comfortable, whose bloody idea was it to train for a half marathon in summer anyway???? Lucky it's been mild, I would have died in the usual mid 30-40 degree heat.
Until next time, happy training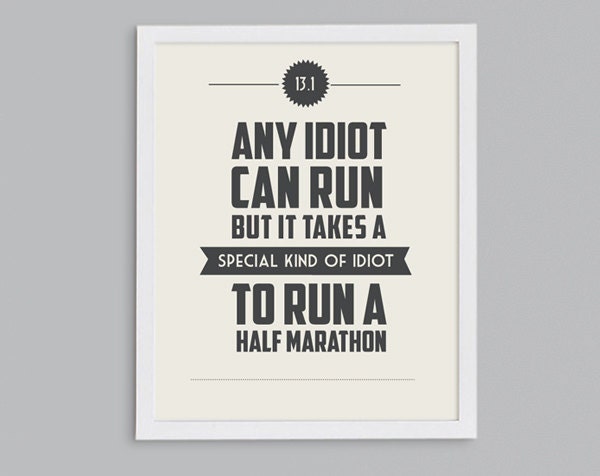 This makes me think of someone in particular.......know who you are???? :)